Do you want to learn the #1 SECRET I used to drop weight without giving up pizza and ice cream?
Then, watch the video below....
I constantly share new recipes with my personal training clients (AKA my Fit Chicks) in Sandy Springs and Alpharetta. I believe that if a personal trainer tries to provide you with a "DIET" that is super restrictive you will never be able to stick with it in the long run. Which is counter productive to trying to lose weight and keep it off for good.
I want to share with you the recipes I use for making a healthier pizza and ice cream :)
Cauliflower Crust BBQ Chicken Pizza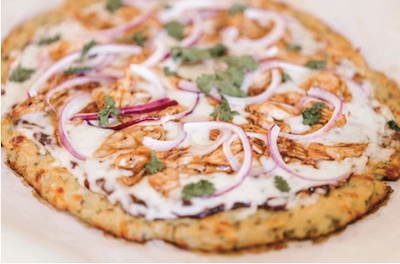 Healthy Ice Cream Swaps:
Arctic Zone Ice Cream: I just included the link so you can see what it looks like. Pretty much all grocery stores carry it now.
Yasso Frozen Greek Yogurt Bars: Can also be found at all the major grocery stores. Chocolate chip cookie dough is my favorite :)
If you need help eating clean and consistently working out we are here for you! We have some of the BEST personal trainers in Alpharetta and Sandy Springs. With our Fit Tone Project you get 3 personal training sessions a week at either our Sandy Springs Gym or Alpharetta Gym, a custom meal plan, and weekly accountability.